SPECIAL ANNOUNCEMENT!
Diversity Works is excited to announce the first Black Men's healing group The UNDERGROUND.
For additional information or to register please click the link to Eventbrite below.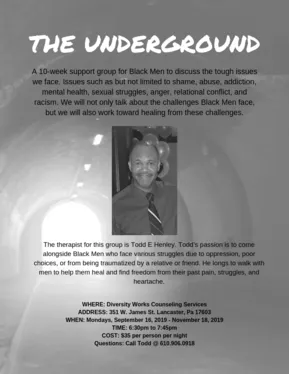 ---

Join Contributing Author Dr. Latinia Shell for a Red Carpet affair Book Signing and Panel with Visionary Author Dr. Pia Scott

**Details in Link below
https://www.eventbrite.com/e/how-i-got-over-red-carpet-affair-and-book-signing-tickets-57410825324
---
BLUE MONDAY BEGONE

Winter Wellnes Event 2018
Monday, January 22, 2018
12-6pm
Depressed? Anxious? Stressed? Been meaning to find a therapist??
Please join us for our winter wellness event at Intersectional Life Counseling and Psychology, LLC, with Dr. Liz, and welcoming guest therapist Dr. Latinia Shell! For only $30, participants will receive a depression/anxiety screening, referrals, AND a chair massage all by qualified practitioners! Warm up with cocoa and refreshments in a low-pressure, welcoming, and inclusive environment. Walk-ins welcome OR call/registeronline to secure your spot!
Eventbrite: https://www.eventb rite.com/e/blue-monday-begone- tickets-42290185082
Craigslist: https://lancaster.craigslist.o rg/eve/d/blue-monday-begone-me ntal/6459008635.html
Conveniently located downtown at 135 N. Duke St. (next to library).

---
New Year, New You - Vision Board and Meditation Workshop
Saturday, February 24, 2018
Noon-2:00 PM
Facilitators
Dr. Latinia Shell, Licensed Professional Counselor and Owner of Diversity Works, LLC
Abbi Caballero, MS, Holistic Health Educator and Meditation Instructor
Every person is equipped with an innate ability to envision and realize their deepest desires. Visualization is powerful and radiates manifestation energy. It purposefully guides us to fulfill our hopes and dreams. Design your destiny and CLAIM~BELIEVE~RECEIVE. Bring your visual aspirations, ambitions, pictures, favorite quotes, words of encouragement, and magazines, if so desired. Canvas and embellishments provided. Light refreshments and wine will be served.
$40 person (20 spaces available). Click below and select "Classes" to register, then vision board workshop, then book.
http://vagara.com/zenspacemeditation
Namaste